Something a little bit different today – how to get FREE Zipcar car club membership.  This only works if you live in London, apologies to our readers elsewhere.
I like car share club Zipcar.  We have a membership in London and there are about 15 cars within a 15-minute walk of our house. The nearest, which is available 80% of the time, is literally 30 seconds away. £6-£7 per hour for the car, plus £59.50 annual fee, is a lot cheaper and easier than owning a car in London.
How does it work?
The process is very simple. You book your car via the Zipcar app or on their website.
You initially unlock the car using a credit card-sized membership card or via your smartphone. The keys are in the glovebox. At the end of the rental, you reverse the process.
The first 60 miles driven per day are free with a charge from 25p per mile thereafter. You do not pay for petrol, for insurance or for the London congestion charge. Minor damage (scratches etc) is also not charged as you just return the car to a street parking bay and it isn't examined by anyone.
If the petrol tank drops below 25% full, there is a fuel charge card in the car to allow you to fill it up without using your own money.
If you live in South London, you can even use a Zipcar for one-way trips using the new Zipcar Flex feature.  Full details of the areas covered are here.
You can find the nearest Zipcars to your house by using the tool on this page of their website.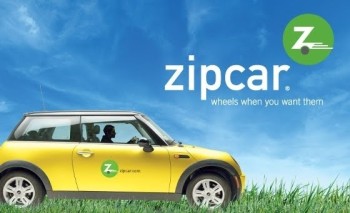 Zipcar has overhauled its membership fees in a very positive way
Zipcar has totally overhauled its membership package. You can now join for FREE for a limited period if you are in London. See here for details.
You have nothing to lose by signing up if you're not a car owner (or if you have one car but occasionally wish you had two).  You never know when access to a car at short notice will come in useful.
There are actually three price plans now available as you can see on this page of their website.  These are the London prices:
FREE (limited offer) membership – pay from £8 per hour for the car, or
£6 per month – get a £6 monthly driving credit (expires if not used) and pay from £6 per hour for the car, or
£15 per month – get a £15 monthly driving credit (expires if not used) and pay from £5 per hour for the car
The £6 per month package is better value if you are sure you will use a car at least once per month.
The free option, however, is worth having as an 'emergency' back-up even if you don't plan to use Zipcar on a regular basis.
Unfortunately, the free membership is not available in Bristol, Maidstone, Oxford, Cambridge, Glasgow or Edinburgh where Zipcar also operates.
The sign-up page is here if you want to give the free plan, or one of the other new plans, a go.  You never know when it might come in handy.
Want to earn more Clubcard or Nectar points? Click here to visit the Shopper Points home page for the latest news and offers. Come back every day for new deals or join our email list.
Do you earn Clubcard or Nectar points from your credit card?
.  If not, you're missing out. We review the best options 
in this article
.
Do you convert Clubcard points into Avios or Virgin Flying Club? If you do, visit our sister site, Head for Points, which is full of tips for maximising your frequent flyer miles.