(EDIT:  There was a mistake in the first draft of this article.  EVERYONE gets the first year of card membership for free now.  It is no longer restricted to people who have no other Amex cards. )
Nectar has launched a generous sign-up bonus with their American Express credit card. This offer seems to not be targetted as you can find it on the Nectar website without having to log into your account.

In general we don't cover credit cards on Shopper Points a lot. If you want to find out more about loyalty credit cards (at least the travel ones), head over to our sister site Head for Points.
However every now and then you can get a great sign-up bonus on High Street loyalty cards (either Tesco Clubcard or Nectar points) with a new credit card and we don't want you to miss out on this one.
Full details of the American Express Nectar credit card can be found on the American Express website here. As you can see, the standard sign-up bonus is 20,000 Nectar points. This isn't a bad deal on its own.
However, until 1st November you will receive 30,000 Nectar points if you apply via the link on the Nectar website and spend £2,000 on the card within 90 days.
This is a generous deal although last year the sign up bonus was 40,000 Nectar points for a short time.
The Nectar credit card has a representative APR of 28.2%, including the £25 fee, based on a notional credit limit of £1,200.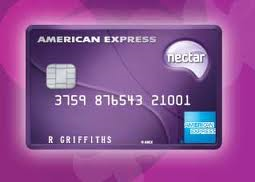 What can I get for 30,000 Nectar points?
In 90% of cases, a Nectar point is worth 0.5p.
You will get 0.5p if you swipe your Nectar card in Sainsbury's to pay for your shopping, use the points to pay for Expedia flights or hotels, or book an easyJet flight or for one of the many other Nectar partners. This means that in the worse case scenario, your points are worth £150.
If you are prepared to sit on your points for a while, you could do better.
Over the last year Nectar has been offering special deals on redemptions. Here are some we have covered on Shopper Points:
Nectar Summer Rewards – 2 Pizza Express pizzas or 2 Vue cinema tickets for 1000 points (2p per point)
via the link on the Nectar website – 1p per point when you convert your points into eBay credit
via the link on the Nectar website – 1p per point in certain product categories at Sainsbury's
via the link on the Nectar website – 50 points for a £2+ coffee (4p+ per point)
Let's imagine that you hold on to your points until a '1p per point' deal comes along. Your sign-up bonus would be worth £300.
This is an exceptional deal on a FREE (for the first year) credit card. Even if you don't manage to get £300 of value, you should be able to manage more than the usual £200-worth if you keep reading Shopper Points for news of good redemption offers.
You need to spend £2,000 within three months to receive the 30,000 points. You cannot apply if you have held the Nectar credit card in the last six months.
Note that you receive the bonus in two parts. American Express will award the standard 20,000 points via your statement whilst Nectar will add an additional 10,000 points directly to your Nectar account.
What is the on-going earning?
You earn 2 Nectar points per £1 of general spend. This is effectively 1% cashback at the very least. This is not a bad deal, especially if you hold on to your points for a deal worth more than 0.5p per point.
What is the annual fee?
Your first year of card membership is free. You will pay £25 per year after that if you do not cancel before the first year is over.
Conclusion
This is a generous deal and well worth a look, especially as the card is free for the first year.
Remember that you need to spend £2,000 within three months to qualify to receive the sign-up bonus. This does include the Christmas period, however, which makes it easier.
You can learn more about the card here but do not apply from that page. Remember that you MUST apply via the special promotional page.
Want to earn more Clubcard or Nectar points? Click here to visit the Shopper Points home page for the latest news and offers. Come back every day for new deals or join our email list.
Do you earn Clubcard or Nectar points from your credit card?
.  If not, you're missing out. We review the best options 
in this article
.
Do you convert Clubcard points into Avios or Virgin Flying Club? If you do, visit our sister site, Head for Points, which is full of tips for maximising your frequent flyer miles.