We don't really discuss credit cards on Shopper Points and leave this to our sister travel loyalty site Head for Points. However every now and then there is an offer on loyalty credit cards with generous sign up bonuses of Clubcard or Nectar points and we like to take a look.
Back in June 2016 Tesco launched their Tesco Premium Credit Card.
The representative APR is 56.5% variable, including the fee, assuming a £1200 credit limit.
As you were looking at a £150 annual fee for a list of benefits which was not overwhelming, we were not very excited by it.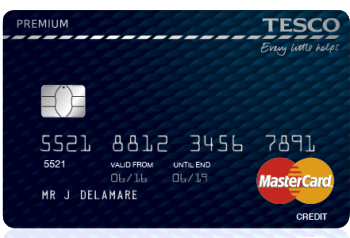 Until now. Currently Tesco Bank is currently offering its biggest ever sign-up bonus – 5,000 Clubcard points!
The offer is available until 11th July.
There is NO spending target to hit to receive the bonus. All you need to do is use the card to make one purchase at Tesco, either in-store or online, within two months of receiving it.
As the annual fee is £150, you are paying £150 to receive 5,000 Clubcard points. Exchanged at 3 x face value for one of the better Clubcard Boost deals, the points are worth £150. You'd get £150 of Uber or hotels.com credit for example.

On this basis, your costs are covered for the first year and you would still get the benefits of the card.
However, just because the card is 'free' (if you assume 5,000 points are worth £150) you should still work out the value TO YOU of the other card benefits to see if there is any point in getting one:
You get 1 Clubcard point for every £1 you spend on the card in Tesco

This is in addition to your regular Clubcard points. In comparison the free Tesco Clubcard credit card gives you only 1 point for every £4 you spend in Tesco. If you spent a lot of money in Tesco, the value of these extra points would add up.
Remember, though, that the free Tesco Bank debit card gives the same 1 point per £1 spent in Tesco. You can get this benefit without spending £150 on a credit card.
You get a 5,000 point bonus if you spend £5,000 with Tesco during your card year
This sounds like a lot of money to spend in a supermarket. However if you've got a large family and/or are a driver and buy your fuel at Tesco petrol stations, you can hit the target.
Adding in the base earning rate of 1 point per £1 spent in Tesco, you would earn 8,750 more Clubcard points per year using the Premium credit card instead of the free Tesco credit card if you spent £5,000 in Tesco. That is made up of the 5,000 bonus Clubcard points and the extra 3,750 points earned for spending £5,000 in-store.
You get comprehensive travel insurance for you and your family
The premium credit card comes with a travel insurance covering your immediate family. If you are currently paying for travel insurance then this would have some value, although you should check the small print carefully regarding things like winter sports, maximum length of trip and pre-existing conditions.
1% enhanced exchange rate when you buy travel money in a Tesco store using your card
There are better credit cards out there with 0% foreign exchange fees when spending abroad. I'm not sure you need to travel with a huge amount of foreign currency in your suitcase these days.
1 Clubcard point for every £4 you spend on the card outside Tesco
This is good but remember that Tesco rounds down every transaction to the nearest £4. A £7.99 transaction only earns 1 point and a £3.99 transaction earns nothing. However, a lot of other rewards cards have cut their rates recently – the ASDA Money credit card recently dropped to 0.2% today from its previous 0.5% – which makes the Tesco Premium rate better by comparison.
Conclusion
Receiving 5,000 Clubcard points definitely makes this offer more attractive. However, not everyone will get the most out of this offer.
If you know that you will definitely spend £5,000 per year in Tesco, this can be a decent deal even after paying the annual fee

If you need travel insurance, this will add to the benefits of this credit card

If you spend money on Uber and would definitely get £150 of value from the sign-up bonus, you might as well apply. The card is basically free to you and you are getting free travel insurance and a decent earning rate on your spending.
Even then, I'm not sure if the card is worth keeping for more than a year. From the second year, you will still be paying the £150 annual fee but you won't be getting another 5,000 Clubcard points as a sign-up bonus. You'd need to be spending over £5,000 per year in Tesco and using the travel insurance to get value after Year 1.
The application page for the Tesco Premium Credit Card is here. You will receive 5,000 bonus Clubcard points if you apply before 11th July.
Disclaimer: Head for Points and Shopper Points are journalistic websites. Nothing here should be construed as financial advice, and it is your own responsibility to ensure that any product is right for your circumstances. Recommendations are based primarily on the ability to earn miles and points and do not consider interest rates, service levels or any impact on your credit history. By recommending credit cards on this site, I am – technically – acting as a credit broker. Robert Burgess, trading as Head for Points, is regulated and authorised by the Financial Conduct Authority.
Want to earn more Clubcard or Nectar points? Click here to visit the Shopper Points home page for the latest news and offers. Come back every day for new deals or join our email list.
Do you earn Clubcard or Nectar points from your credit card?
.  If not, you're missing out. We review the best options 
in this article
.
Do you convert Clubcard points into Avios or Virgin Flying Club? If you do, visit our sister site, Head for Points, which is full of tips for maximising your frequent flyer miles.