Today we want to look at Clubcard's new feature to instantly redeem your Clubcard points using the app.
Up until December last year Tesco only issued your Clubcard points once per quarter. This meant that, if you had a large number of Clubcard points due to you, you had to wait up to 12 weeks to get your hands on them. This was clearly no good when you needed the points immediately for a redemption which is why Tesco decided to change its rules.
You can now request your 'pending' Clubcard points whenever you like. You can then redeem them for any of Clubcard's partners.
This feature has been available via the desktop website for a while but if, like me, you only ever use the app these days then you probably haven't seen it.  It was only introduced to the app last week.
This is how it works using the app.  Here is a screenshot I took on Thursday morning, with 257 points pending. I would not receive these before February if I waited.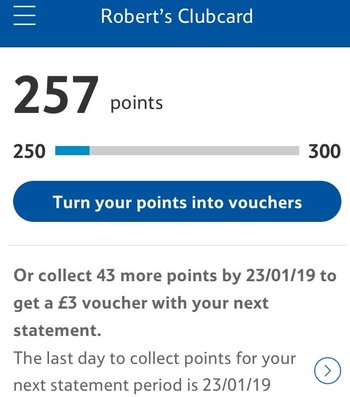 Click on 'Turn your points into vouchers' and you see this. I can convert 250 of my 257 points immediately: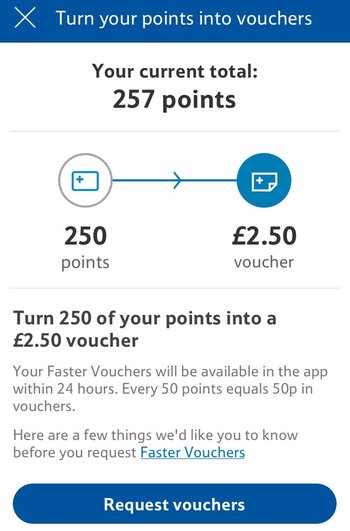 I confirm and get this message: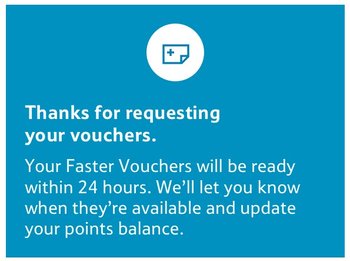 On Friday morning, I went into the app and got this message:
A voucher code was showing and I was able to redeem it immediately for £7.50 of Uber credit. The code was in my inbox within 30 seconds and I could immediately add it to my Uber account.
There are some rules ….
There are a couple of points to note about this new feature.
The key one is that it is disabled for two weeks before your February, May, August and November Clubcard points statements are generated. This is to stop you withdrawing your points in the period that Tesco is printing and posting your statement, which might mean that you ended up with two lots of points.
Secondly, using this feature requires you to opt out of receiving paper Clubcard statements. Future statements will be sent by email.
You need at least 150 Clubcard points to request instant vouchers, but this is the same rule that was in place for triggering paper vouchers so no-one loses out here.
This is, undoubtedly, a genuine improvement to Tesco Clubcard for miles collectors. It is just a shame that Tesco has gutted the Clubcard scheme over the last two years, especially with the closure of Tesco Direct and Tesco Wine, making it hard to run up substantial points balances.
Want to earn more Clubcard or Nectar points? Click here to visit the Shopper Points home page for the latest news and offers. Come back every day for new deals or join our email list.
Do you earn Clubcard or Nectar points from your credit card?
.  If not, you're missing out. We review the best options 
in this article
.
Do you convert Clubcard points into Avios or Virgin Flying Club? If you do, visit our sister site, Head for Points, which is full of tips for maximising your frequent flyer miles.