Nectar has made it a lot easier to earn the £100 sign-up bonus on the American Express Nectar credit card.  It has doubled the amount of time you have to earn the bonus.

In general we don't cover credit cards on Shopper Points a lot. If you want to find out more about loyalty credit cards (at least the travel ones), head over to our sister site Head for Points.
However every now and then you can get a good sign-up bonus on High Street loyalty cards (either Tesco Clubcard or Nectar points) with a new credit card and we don't want you to miss out on this one.
Full details of the American Express Nectar credit card can be found on the American Express website here. As you can see, the standard sign-up bonus is 20,000 Nectar points.
The snag, in the past, was that you had to spend £2,000  in three months to qualify for the bonus.
Amex has now doubled this period to reflect the fact that people are spending less at the moment.  You now have six months to spend £2,000 to earn the 20,000 bonus Nectar points which makes it a lot easier.  If you applied today, you'd have until mid-November for example.
The Nectar credit card has a representative APR of 27.3%, including the £25 fee, based on a notional credit limit of £1,200.  Your actual credit limit will not be £1,200 and in most cases is higher.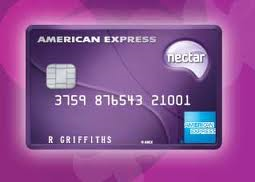 What can I get for 20,000 Nectar points?
In 90% of cases, a Nectar point is worth 0.5p.
You will get 0.5p if you swipe your Nectar card in Sainsbury's to pay for your shopping, buy something at eBay or use it for one of the many other Nectar partners. This means that in the worse case scenario, your 20,000 points are worth £100.
This is an excellent return for spending £2,000.
If you are prepared to sit on your points for a while, you could do better.  Sainsbury's runs occasional 'double up' promotions where you get 1p per point.  We have seen similar offers in the past from LNER trains and eBay.  If you waited until a 'double value' offer came along, your sign-up bonus would be worth £200.
This is an exceptional deal on a FREE (for the first year) credit card. Even if you don't manage to get £200 of value, you should be able to manage more than the usual £100-worth if you keep reading Shopper Points for news of good redemption offers.
Are there other restrictions on earning the bonus?
Yes.
You do NOT qualify for the bonus if you have had any other personal American Express cards in the past 24 months.
This does not include Amex cards issued by other banks, such as Lloyds Bank or MBNA.  However, you are blocked if you have had a Gold, British Airways, Green, Nectar etc American Express card in the past two years.
What is the on-going earning?
You earn 2 Nectar points per £1 of general spend.  This is effectively 1% cashback at the very least.  This is not a bad deal, especially if you hold on to your points for a deal worth more than 0.5p per point.
What is the annual fee?
Your first year of card membership is free.  You will pay £25 per year after that if you do not cancel before the first year is over.
You can cancel your card at any point.  Your Nectar points are sent across to your Nectar account once per month, and after they are sent over American Express will not reclaim them if you cancel.
Conclusion
If you have previously ignored the American Express Nectar credit card because you couldn't spend £2,000 in three months, it may be time to take another look.  Now that you have six months to spend £2,000, it may make a lot more sense.
With no annual fee, £100-worth of Nectar points for spending £2,000 is a good return.
You can learn more about the card, and apply, here.
Want to earn more Clubcard or Nectar points? Click here to visit the Shopper Points home page for the latest news and offers. Come back every day for new deals or join our email list.
Do you earn Clubcard or Nectar points from your credit card?
.  If not, you're missing out. We review the best options 
in this article
.
Do you convert Clubcard points into Avios or Virgin Flying Club? If you do, visit our sister site, Head for Points, which is full of tips for maximising your frequent flyer miles.